APOGEE 401(k) Company Match Increase!
Posted April 28, 2018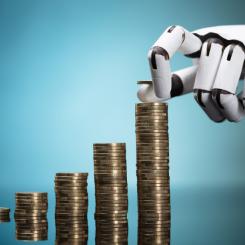 APOGEE, is not owned by Venture Capitalists focused on maximizing shareholder profits. We are privately owned, and laser focused on building a great company to serve our clients and empower our people. Part of that focus is a commitment to ensure that every employee can maximize retirement growth and save for other goals.
To provide this flexibility, the Company for 2017 provided a 401(k) that matched 100% of employee contributions up to 7% of salary and an added discretionary Profit Sharing component. APOGEE's company match was double the industry average.
APOGEE's goals for 2018 have not changed. We are still focused on building a great company and culture with happy employees and excited candidates. To that end, we aren't sitting on our benefit laurels. APOGEE is happy to announce effective immediately:

AVERAGE 401(k) COMPANY MATCH
According to the Bureau of Labor Statistics, the typical or average 401(k) match nets out to 3.5%. Their National Compensation Survey found that:

Those are depressing statistics for most workers and a real retirement dilemma for the rest. We at APOGEE are fortunate to work in an industry and region where this benefit is available for most but even here the company match varies widely.
Most of APOGEE's industry partners offer company 401(k) matches close to the 3.5% industry average and often with a hard cap, long vesting periods or cliff vesting where there is 0% vesting till the end of a specified period (usually 5 years). These industry standards are not going to help build a meaningful retirement nest egg.
Industry Averages!?!
At APOGEE, we won't settle till you reach your Peak!
Enjoy your triple industry average 401(k) company match retirement benefit! Also, we have fought hard to keep fund management fees ultra-low and are identifying and replacing under-performing fund choices as needed. More details to follow.
Thanks for all
YOU

do!

Be sure to check out your Fidelity NetBenefits and review your 2018 401(k) contributions. Please reach out to Semetra Dixon or call 703-636-2825 with any questions.