Who We Are
APOGEE builds and delivers Applied Intelligence: cutting-edge tools, products, processes, and expertise, with a motivated, knowledgeable, and professional workforce that enables our customers to achieve their technical and business goals.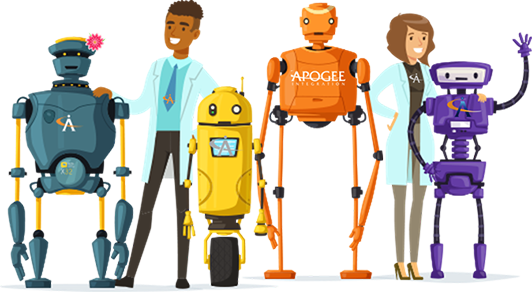 Core Values

Integrity & Reliability

Diversity & Inclusion

Teamwork & Mentorship
Entrepreneurial Initiative

Accountability

Commitment to Excellence

Respect
Our Mission
Be the PROVIDER of choice for government & commercial organizations known for embracing an unwavering commitment to responsiveness, accuracy, integrity, collaboration, and innovation.
Be the EMPLOYER of choice committed to an open and transparent corporate atmosphere and a progressive culture attracting and empowering world class professionals to explore cutting-edge technical solutions to customer problems while fostering professional growth.
Be the preferred SOURCE for cutting-edge Analytic Products, Systems & Software Engineering, Big Data Integration, IT and Business Services that directly contribute to customer success.