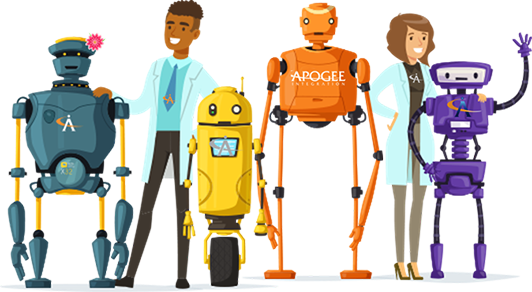 Core Values

Integrity & Reliability

Teamwork & Mentorship

Entrepreneurial Initiative

Accountability

Commitment to Excellence

Respect
Our Mission
APOGEE's objective is to be a premier technology services and solutions provider as measured by the respect of our customers, the quality of our technology professionals, and the innovative spirit of our workforce.
Where is APOGEE headed? We will:
Be the PROVIDER of choice for government & commercial organizations known for embracing an unwavering commitment to responsiveness, accuracy, integrity, collaboration, and innovation.
Be the EMPLOYER of choice committed to an open and transparent corporate atmosphere and a progressive culture attracting and empowering world class professionals to explore cutting-edge technical solutions to customer problems while fostering professional growth.
Be the preferred SOURCE for cutting-edge Analytic Products, Systems & Software Engineering, Big Data Integration, IT and Business Services that directly contribute to customer success.